Hare Art
I have been fascinated by hares for many years. Having an interest in legends and spiritual matters the stories and symbolism that surrounds these creatures continues to inspire me.
Through the centuries the hare has been a symbol of the cycle of nature and renewal in cultures all over the world.
The hare may be a trickster or a fast creative thinker. They have been known to be connected with witches or to be enchanted. The more I read and research the more they appear in different contexts and with different significances.
In 2009 I painted a picture of a white hare in the moonlight. There are legends surrounding white hares. Sometimes they haunt the breaker of a woman's heart, sometimes they will steal your soul away if you meet them at night. Another has the white hare appearing to warn fishermen in the south west of storms at sea. It was this last story that inspired my first book Assander; the White Hare of Hartland, two more books followed but these are presently no longer in print.
Below are some of my paintings of hares. These days I am mostly painting our coastline but I am lucky enough to see wild hares on the peninsula here; no actual white ones but still beautiful and intriguing when brown.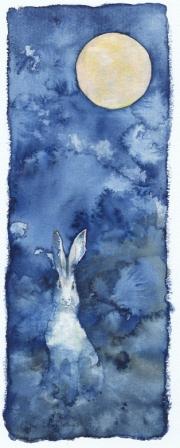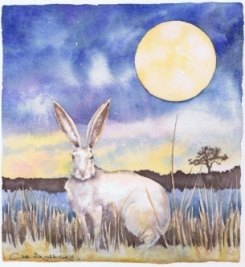 The African Hare The original White Hare