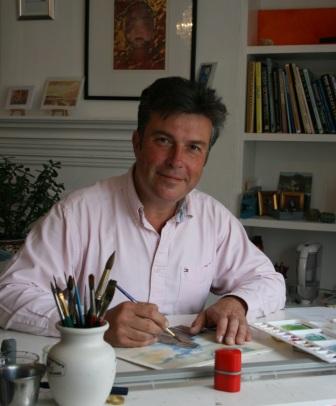 Welcome to the website for Clive Brocklehurst artist in watercolour
White Hare Studio, Hartland, Devon
My passion is painting in watercolour. I have painted all my life and have been lucky to receive tuition and encouragement from a number of contemporary watercolour artists including Gordon King and Dennis Syrett.
After a 20 year career as a Chartered Surveyor, I took up painting full time in 2009; the frustration of not being able to express my creativity in the medium I love was taking its toll on my health and spirit.
After exhibiting in galleries and at town and county shows I decided to create White Hare Gifts to market my collections of prints and greetings cards. It seemed to me that the public were not comfortable with the range of my subject matters and creations if I marketed them under my name alone. It was easier to create a brand to offer the many things I want to create.
White Hare Gifts is named after one of my most popular paintings of a white hare in the moonlight, it was the branding of all my showstands at county and town fairs in 2010 and 2011,as well as for catalogue and internet sales. In 2012 it now has a permanent home at the White Hare Studio~Gallery at Hartland (see dedicated website page for photos). White Hare Gifts brings original art designs as greetings cards and in small scale affordable formats ideal for gift items or as a treat for you.
White Hare Gifts has a dedicated website with an efficient simple shopping cart style where you can pick and chose cards and prints in different sizes and frames just like in the Studio~Gallery, and have them sent as gifts to others. (www.whiteharegifts.co.uk)
The latest progress for White Hare is to register it as a publisher. It is now authorised to issue its own ISBN book numbers. Its first publication is my story "Assander; the White Hare of Hartland", drawing on the legend of a White Hare that warns south west fishermen of storms. (See the dedicated page for more information). More books are planned in the Assander series as well as others already drafted but yet to be finished.
"When I started my website I had the tag line 'some things have to be created'. As my career progresses there is no let up in that feeling. The more I make the more there is to be made, and thankfully people respond to that honesty of creative spirit. Whilst my original paintings are enjoyed by individual owners, White Hare Gifts gives the chance to share my images with more people in accessible formats and now my stories too"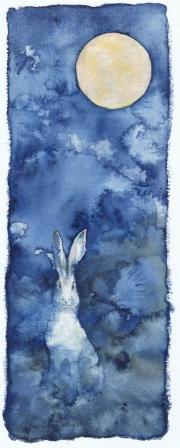 The White Hare; the painting that inspired White Hare Gifts; still available as a print and as greetings cards