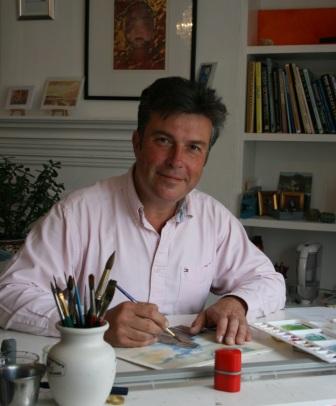 Welcome to the website for Clive Brocklehurst and White Hare Gifts
White Hare Studio, Hartland, Devon
My passion is painting in watercolour. I have painted all my life, I took up painting full time in 2009.
After exhibiting in galleries and at town and county shows I decided to create White Hare Gifts to market my collections of prints and greetings cards. .
White Hare Gifts is named after one of my most popular paintings of a white hare in the moonlight, it was the branding of all my showstands at county and town fairs in 2010 and 2011,as well as for catalogue and internet sales. In 2012 it gained a permanent home at the White Hare Studio~Gallery at Hartland (see dedicated website page for photos). White Hare Gifts brings original art designs as greetings cards and in small scale affordable formats ideal for gifts. In January 2013 I attended a trade show and my ranges of prints books and greetings cards was taken by eight shops around the UK many of which have had considerable ongoing success throughout the year.
As well as my ongoing painting for my own creations and to commission, when we moved to Hartland I was inspired to take up writing. I had already completed one illustrated short story but these are a trilogy of stories about the white hare called Assander.
White Hare is a registered publisher and its first book was my story "Assander; the White Hare of Hartland", drawing on the legend of a White Hare that warns south west fishermen of storms. (See the dedicated page for more information). This has grown into a trilogy of magical adventure stories from the 1800's to the present day following a dynasty of white hares.
"On dedicting my life to being an artist I adopted the tag line 'some things have to be created'. As my career progresses there is no let up in that feeling. The more I make the more there is to be made, and thankfully people respond to that honesty of creative spirit. Whilst my original paintings are enjoyed by individual owners, White Hare Gifts gives the chance to share my images with more people in accessible formats and now my stories too"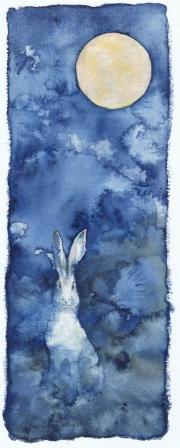 The White Hare; the painting that inspired White Hare Gifts; still available as a print and as greetings cards